Soccer update: Paw Paw is officially in 7th place. We will play away at Somonauk this Friday at 4:15 pm! Go Bulldogs!

Soccer parents: We are waiting for tonight's Leland vs Newark game results to determine our place in the final conference standings. We will post the results as soon as possible. Stay tuned!
The Paw Paw School Board Community Forum originally scheduled for this evening, Wednesday October 5 at 7:00 p.m. has been canceled. It will be rescheduled for an upcoming date. Thank you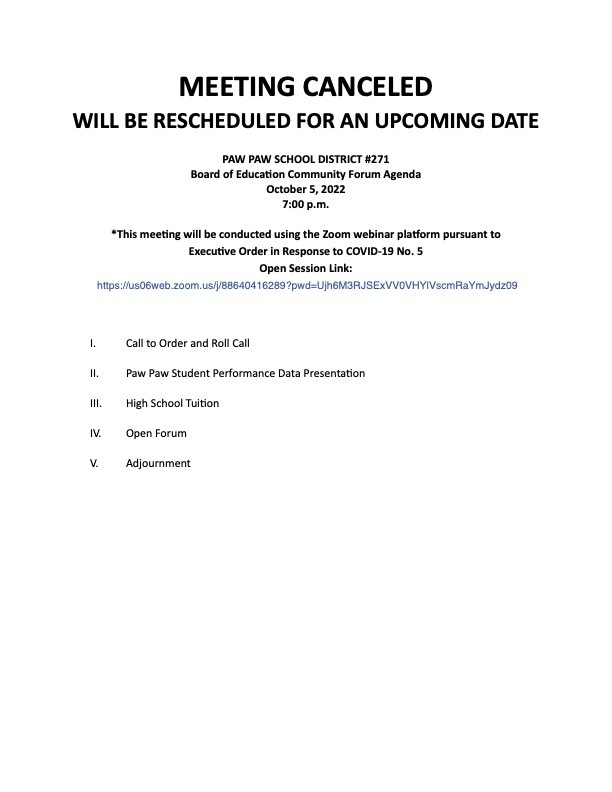 Please see the attached flier for information about the Paw Paw School Board Community Forum on October 5 at 7:00 p.m.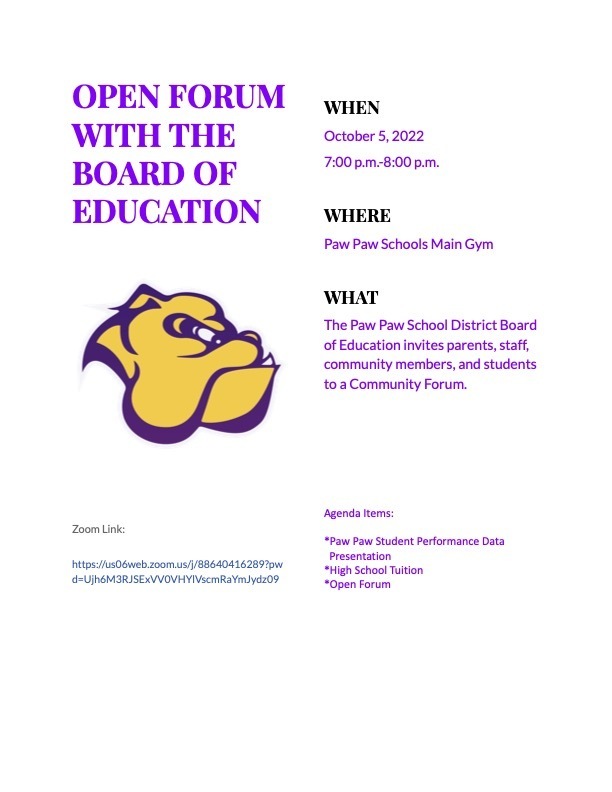 The soccer game for this afternoon against Serena has been canceled. The Volleyball game is still on as scheduled. If you have any questions please contact Mr. Garza (Athletic Director) or call the school office. Thank you.

Volleyball Reminder: Tonight's practice ends at 4pm. Players will leave soon after for their trip to Indian Creek. If your child is not going to IC, please pick them up at 4pm. Thank you!

Paw Paw CUSD #271 is currently accepting applications for the openings of Assistant Boys Basketball Coach and Assistant Girls Basketball Coach for the 2022-2023 season. Preferably applicants would have previous coaching experience, as well as have or be willing to get CPR/AED certification. Interested applicants may submit an application on Frontine or a letter of interest and resume to: Paw Paw CUSD #271 Attn: Dan Garza, PO Box 508, Paw Paw, IL 61353 or email:
dgarza@2paws.net
Soccer practice for this afternoon (Friday, September 9) has been canceled. We apologize for the late notice. Thank you
Picture Day was today. Students were given a personalized ID card with information on how to access their pictures online. The pictures will not be available to view for 2-5 business days. Please be sure to ask your child for this card when they get home today. Also a reminder that the volleyball & soccer games were canceled for this afternoon. Soccer practice will take place at its normal time and volleyball will be hosting a mother/daughter volleyball game starting at 4:30.
The FFA Dairy Judging contest for this evening has been canceled due to transportation issues. We apologize for the late notice. Also, a reminder that tonight is our Open House from 6:00-7:00. We hope to see everyone there!
Our front parking lot is currently being re-paved. As a result, tonight's Board meeting will be in the gym at the south end of the building instead of the main entrance gym. There is parking behind the building at the south end or you may park on the street and walk up the sidewalk by the playground. Please do not park in the parking lot or walk on the fresh oil. Thank you!
Junior High families please see the link below to access a Google Form that we need all junior high families to complete by Friday. Thank you in advance!
https://forms.gle/Vo7dHLTBLctEWrTy5