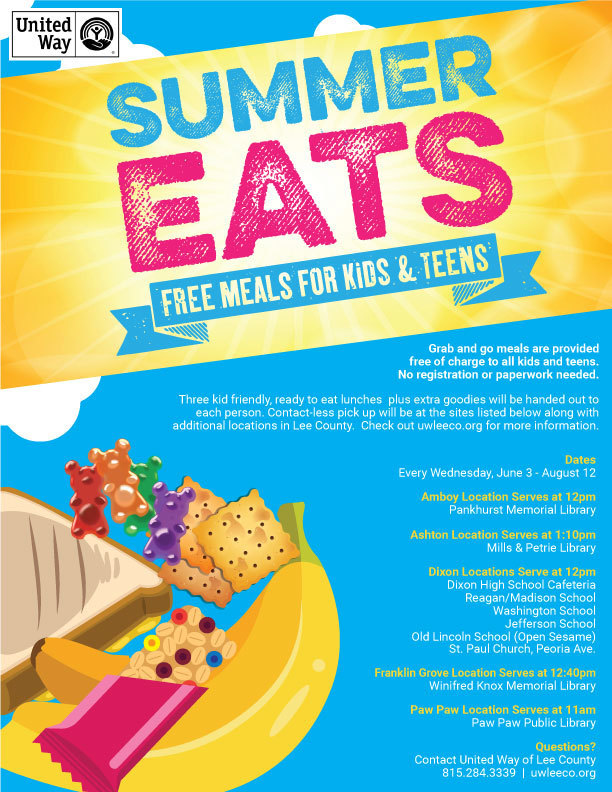 Summer Meal Program
Eve Phillips
Thursday, May 21, 2020
United Way Addresses Summer Hunger
Summer Eats Provides Free Meals to Lee County Children
Beginning June 3rd, United Way of Lee County will provide free meals to all children and teens in Lee County, all summer long.
Kids and teens will be able to get a grab and go meal from one of 10 sites throughout Lee County. Meals will feature kid-friendly foods like peanut butter and jelly sandwiches, crackers, granola bars, and fruit. No registration or ID is required, and participation is open to all children and teens 18 and under.
United Way of Lee County began serving summer meals in 2017. Changes to this year's Summer Eats will allow for added safety during the pandemic. Additional cleaning procedures will be maintained, and meals will focus on prepacked, individually sealed items. Instead of serving lunches three days a week, each site will only serve on Wednesdays but will provide 3 lunches for each child, along with extra goodies. Pick up will be contact-less and volunteers will be provided with masks and gloves. The program runs June 3rd– August 12th.
2020 Summer Eats Meal Sites and Serving Times

· Dixon High School Cafeteria: 12pm
· Madison/Reagan Middle School: 12pm
· Jefferson School: 12pm
· Washington School: 12pm
· Old Lincoln School (Open Sesame): 12pm
· St Paul Church, Dixon: 12pm
· Franklin Grove Library: 12:40pm
· Ashton Mills & Petrie Building:1:10pm
· Amboy Library: 12pm
· Paw Paw Library: 11am

Summer Eats is meeting a real need in the community. Even before Covid-19, 21.5%, of Lee County children were food insecure, meaning they have limited or uncertain access to safe and nutritious food. And this issue has been compounded by the pandemic. Children who are hungry or food insecure are more likely to be in poor health and less likely to form friendships, to be curious, and to learn. This summer meal program can respond to this problem.
United Way of Lee County runs the Summer Eats program with the help of countless community partners. Lee County Council on Aging will be providing delivery and service for Lee County communities outside of Dixon. United Way is looking for additional donations and volunteers to support this program. Those interested can learn more at www.uwleeco.org or by contacting Keri Olson at 815.284.3339 or kolson@uwleeco.org.