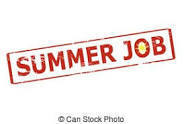 Summer Help
Eve Phillips
Tuesday, April 07, 2020
Paw Paw School District will be employing 3 students as summer helpers to assist the custodians with building and grounds over the summer months.
You must be at least 15 years of age. Work weeks will be from Monday through Thursday from 6:00 am to 4:30 pm.
If you are interested, please fill out the Non Certified Application below. Either drop it off, or mail to the school by May 4, 2020.
If you have questions, please feel free to email Mrs. Phillips, Principal at ephillips@2paws.net